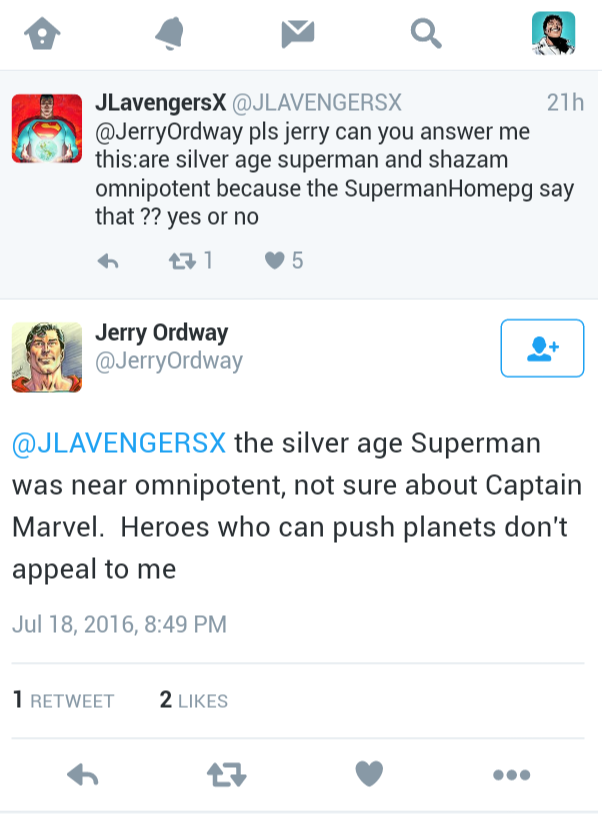 Jerry Ordway had confirmed on his Twitter that Silver Age Superman is Near-Omnipotent.
Founder





Age

: 22


Posts

: 5609


Join Date

: 2014-09-19


Location

: Beyond Realm



What an uninformed statement. If he's near omnipotent, why did he do most actions with his body physically? Near omnipotence would allow thoughts to affect/effect the universe around him. What, he restrained himself?

I've gained a new perspective on "heroes" in comics. Take the new movie, Batman vs Superman. In that movie, supes saves Lois Lane, while thousands of others die by crime everyday in his own adopted country, nevermind other countries he doesn't really help on a regular basis. The whole, "mild mannered reporter" thing, is again human narcissism. Even in the unreal universe supes is in, if he was really "good" he'd forgo living like we do and he'd consistently fight crime daily, not taking pictures and fawning over another human, male or female. If he was good, shouldn't he save any citizen from an injust death, instead of prioritizing a reporter that got herself into a jam? Why? She chose to be where she is, that's why. The victim of a crime sometimes do the same as Lois but the majority don't. Who do you save, Lois Lanes irresponsibility or the person walking down the street in Metropolis, who got pulled into an alley at knife/gunpoint? I know who I'd save if I was Supes.

It teaches irresponsibilty from Lois Lanes viewpoint. This viewpoint was also in the silver age comics with almost all heroes.

If Silver age Supes was near omnipotent, he wouldn't have to choose Lois or your son/daughter/aunt/uncle/mom/dad in this way. The moral dilemma's he'd have with near omnipotence? Not in any order.

1. Is it my business?
2. Should I fix it?
3. Can I fix it?
4. Will the people afterwards be thankful?
5. If I fix, have I unknowingly altered the plan of the creator? This one here, is really important, imo.

Mr.Ordway should know that with near omnipotence, Supes would know all of these answers in an instant. So no, Silver age Supes, was not near omnipotent. These writers and creators, really don't put cosmic level writing through it's paces.
Settled Member





Posts

: 114


Join Date

: 2016-04-16



Im just posting this for future discussions.
Founder





Age

: 22


Posts

: 5609


Join Date

: 2014-09-19


Location

: Beyond Realm



---
Permissions in this forum:
You
cannot
reply to topics in this forum