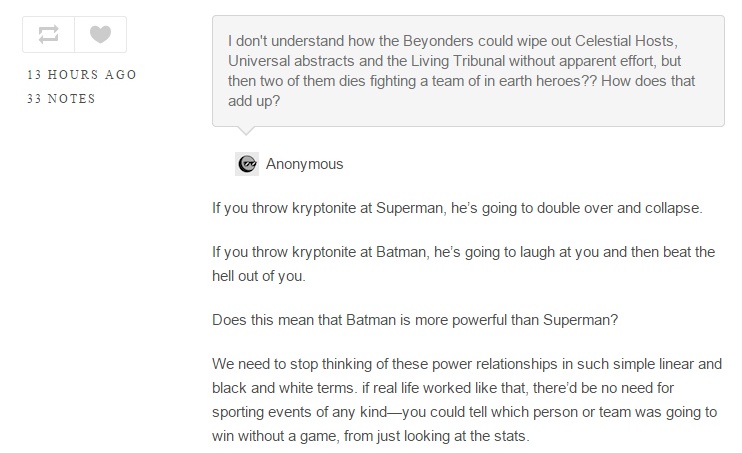 Basically Plot Induced Stupidity is what made the Omnipotent Beyonders lose and he stated powerscaling doesnt exist.
First Beyonder, duuhhh. This has been going on for a long time. We've already talked about why this really happens. Humanities never ending solopsistic narcisistic ability to pat itself on the back. The Celestial host couldn't prevail........so let's bring in the humans.

The dude is using a false equivalent to justify the writing.

Here's what he doesn't want people to do. Any professional sports team= Beyonders vs Any best peewee team in the respective chosen sport=Human heroes. Do we really need to play a game of pros vs peewees to determine a sane winner? The peewees would never win, ever. This is why the writing is really bad cosmically. Too many regressions in logic assumption.

The biggest crime I see isn't just the two examples above. It's also cosmic beings portrayed as not having the chutzpah/determination/will/desire/ingenuity/cunning to live or whatever the fek, they constantly write into human heroes which allows for them to win. Every damn species has this, every single one. To suggest these qualities are less than human level for cosmically sentient beings, is..................well, I don't have words for it.

If someone were to figure out how to defeat the Beyonders, it should have been the celestial hosts along with Galactus, Mistress Death, Love and Hate, Ego, Epoch, Tyrant, Tenebrous, Proemial Gods, Siz-neg, The Other, Scrier, combined weight of the Asgardians......etc...etc You know the same type of beings that combined to defeat the Cancerverse.

I do find it more than lacking to say the least.

It's why I don't read much any more.
Settled Member





Posts

: 114


Join Date

: 2016-04-16



Couldn't find the edit button so in my sports vs analogy, life does work like that. The pc crap is telling people it doesn't and that stats in any contest don't matter. He's right when things are even. Pro vs pro, peewee vs peewee.

When it's Beyonders vs almost whomever it's an uneven contest and real thought should be put into how such a foe would be defeated. I wouldn't even object to human ideas being injected through Galactus or another cosmic but to out right defeat any cosmic sentience?
Settled Member





Posts

: 114


Join Date

: 2016-04-16



The Beyonders literally slaughter and murdered every cosmic being in the Marvel Omniverse........and yet humans beat them......yeah sure lol.......
kind of smacks of a severe lack of imagination!
Head Judge





Age

: 51


Posts

: 682


Join Date

: 2014-12-15


Location

: philly(go Eagles)



@galactus1967

wrote:kind of smacks of a severe lack of imagination!
They truly rushed the entire Secret Wars tie ins and then with the event......
We all thought Beyonder was gonna be the one ruling but nope.....this goes to show Plot Induced Stupidity can screw over Omnipotent type beings.

Similar topics
---
Permissions in this forum:
You
cannot
reply to topics in this forum