The Presence
The Presence is the enigmatic All-Powerful,All-Knowing, and Absolute Existing figure within the DC Comics company who is the reason for creating all of existence within the DC Omniverse he has created such beings like Lucifer Morningstar,Michael Demiurgos,Spectre, and the Angels of heaven he is the Alpha and the Omega.
Small DC Facts about The Presence


The Presence has multiple hinted aspects such as The Primal Monitor.

The Presence has been stated to be the most powerful being in DC.

The Presence in DC has made more appearances in Lucifer and New 52.

The Presence might be MANY aspects of different Gods within DC.

The Presence within DC/Vertigo is based on the Judeo-Christian God.

The Presence in Vertigo is named as Yahweh more than "Presence"

Misconceptions
The presence himself stated he was created from External forces which was badly translated as he was created by a higher being within DC but in actuality he was talking about the Writers/Artists of DC Comics.
The Presence and The Great Evil Beast from DC are one in the same they aren't separate entities at all.
Vertigo Comics
Vertigo is an imprint of the American comic book publisher DC Comics. It was originally created to publish stories with graphic or adult content that could not meet the stringent guidelines of the Comics Code Authority, allowing more creative freedom than in their main imprint. These age-restricted titles were free to contain explicit violence, substance abuse, sexuality, nudity, profanity, and other controversial subjects, similar to the content of R-rated films.
Separate Ownership
In 2010 Vertigo comics announced that Vertigo would become a strictly
creator-owned imprint
much of Vertigo's output inhabits its own "universe", and is set completely apart from the DC universe and from other Vertigo titles—there is no "Vertigo Universe" per se, automatically putting to rest to any continuity quibbles between the two.
The Vertigo Comics Presence
As stated above that Lucifer Vol.1 affects the Canon of both DC/Vertigo and introducing that
Lucifer Vol.2 is strictly Vertigo Comics Canon
only makes them worse because of how much they contradict each other.
Lucifer Vol.1 also takes place within DC as of the many crossovers between the characters.
Evidence:
Spoiler:
Questions and Answers
1. Is Lucifer Vol.1 canon to both?
Answer:
Yes it's canon to both DC Comics and Vertigo Comics
2. Is Lucifer Vol.2 canon to both?Answer:
As before the canon goes to Vertigo only.
3. Is The Presence from Vertigo similar to DC Presence?Answer:
Unlike the DC counterpart No they are vastly different as in Lucifer Vol.2 Issue 9 and Issue 10 the Vertigo Presence is like the Great Evil Beast.
4. Is the Vertigo Presence Omnipotent,Omniscient, and Omnipresent?Answer: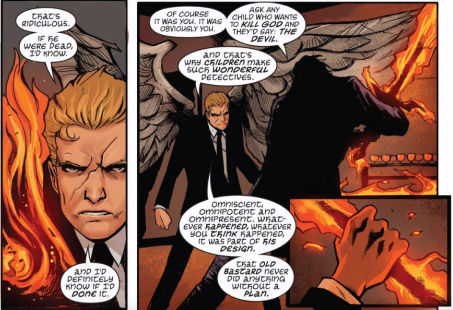 Conclusion:
DC Comics and Vertigo has their own Separate Presence which both are Omnipotent,Omniscient, and Omnipresent so as of 2010 DC Universe=/=Vertigo Universe even with Rebirth/Flashpoint there is only ONE presence per universe so now they basically have their own canon both are equal and both are different in their own stories.
Founder





Age

: 22


Posts

: 5611


Join Date

: 2014-09-19


Location

: Beyond Realm



Update: The new issue proved me wrong it seems look up Lucifer Vol.2 Issue 19.
Founder





Age

: 22


Posts

: 5611


Join Date

: 2014-09-19


Location

: Beyond Realm




Similar topics
---
Permissions in this forum:
You
cannot
reply to topics in this forum