The Choushin
Click the Full image to read:
The choushin created existence as we know and we know they stated they are
"Omnipotent,Omniscient, and Omnipresent."
which is a contradiction as they stated many times as a
"Big hole"
well here i will explain and give you the reason why they aren't omnipotent including Kami Tenchi.
Kami tenchi (as its a fandub for him because no real name was given to him.) as all we know is he transcends beyond the given Chousin well he isn't omnipotent as from the images the power came from "The Chousin" and only Z and Masaki were able to achieve this by their interference.
The choushin made existence as a experiment or lately a contest to find a "Higher" Being than themselves what people can't comprehend the context given so read the images i posted so you can understand if you cant i'll post the statements
Z wrote:Their goal is to create something that would surpass themselves. But they cant create that on their own. So they have to try to bring out anomalies that they can't predict themselves. Breaking the pre-established harmony of all space-time and then restoring the broken harmony at the end of that chaos. They've been waiting  for the birth of those who'd possess the power to fight Tokimi when called to do so. The ones who can create Light-Hawk Wings, the very power, the life force of the choushin Myself and you!
How can 3 self-claimed omnipotent goddesses create a being above them this in itself is impossible if you are omnipotent but if all 3 are omnipotent then they aren't omnipotent as they seem to be as the counter actor was able to handle two of the goddess in the OVA and also how can they not predict something they created into their own creation? what i mean is the anomalies they placed inside human beings and had made themselves not know yet they contradict as well while they knew of Z and Masaki. As Z told Masaki only them two can create such weapons with the life force of the choushin themselves.
The Many Errors of the series.
Tsunami wrote:A distant past, infinite layers of infinite time ago...with our omnipotence, we began existence from that instant. But we were troubled by a single contradiction. The trauma of the existence of a being greater than ourselves. However, we are omnipotent. And that counters the existence of higher beings.
Masaki wrote:That's the contradiction?
Tsunami wrote:Yes. In an effort to find the hole in our omnipotence we spent infinite time conducting trial-and-error experiments.
Washu Habuki wrote:Incidentally,these were thought experiments and not actual tests.
Tsunami wrote:And so we continued to conduct infinitely more experiments over infinitely more time.
They had claimed to be omnipotent but yet......they tried to create a being higher than themselves? but this is also a contradiction to their omnipotence where they failed to stop Z and to counter the counter-actor while also doing much more other things a omnipotent being can do which they couldn't.
Ryoko wrote:Zero couldn't recognize Tokimi back then...It had perfect knowledge, so why couldn't It grasp her existence?
Tokimi wrote:The Hyper-Dimensional does not abide by the laws of our lower worlds. Of course it wouldn't not understand.
Ryoko wrote:So who's to say you're not experiments of even higher beings?
Tsunami wrote:As Ryoko-san suggests,that possibility does exist.
Tokimi wrote:But we cannot accept it! there are no facts or logic for us to do so!
Tokimi stated they cannot accept it and no fact or logic for them to have a being higher than them again another contradiction within the series as that was the goal for them
"To  create the higher being"
or to
"find the higher being."
which means they aren't omnipotent at all but nigh-omnipotent beings don't believe me?
Washu Habuki wrote:So we were pretty stuck, but as a test, I wiped my memory,sealed my power inside the gems. Became an ordinary human, and sought out knowledge from square one.
Tsunami wrote:I used my own being as a base to try to bring forth a new life form with each successive generation.
Tokimi wrote:In an attempted to produce irregularities from the distortions. The possibility ultimately borne from that was Z. But that possibility collapsed.
Now you see even more of  a contradiction??? Wiped my memory? sealed? really i can think of a bunch of self claimed omnipotent beings like this by fans Example: Azathoth from both Cthulu mythos and Demonbane with the memory to cthulu mythos and the sealed where Elder God Demonbane "Sealed" azathoth. this debunked the omnipotence of the choushin.
Also the counter-actor doing this to a self-claimed omnipotent being.
Kami Tenchi
A Galaxy level strength feat....not universal.....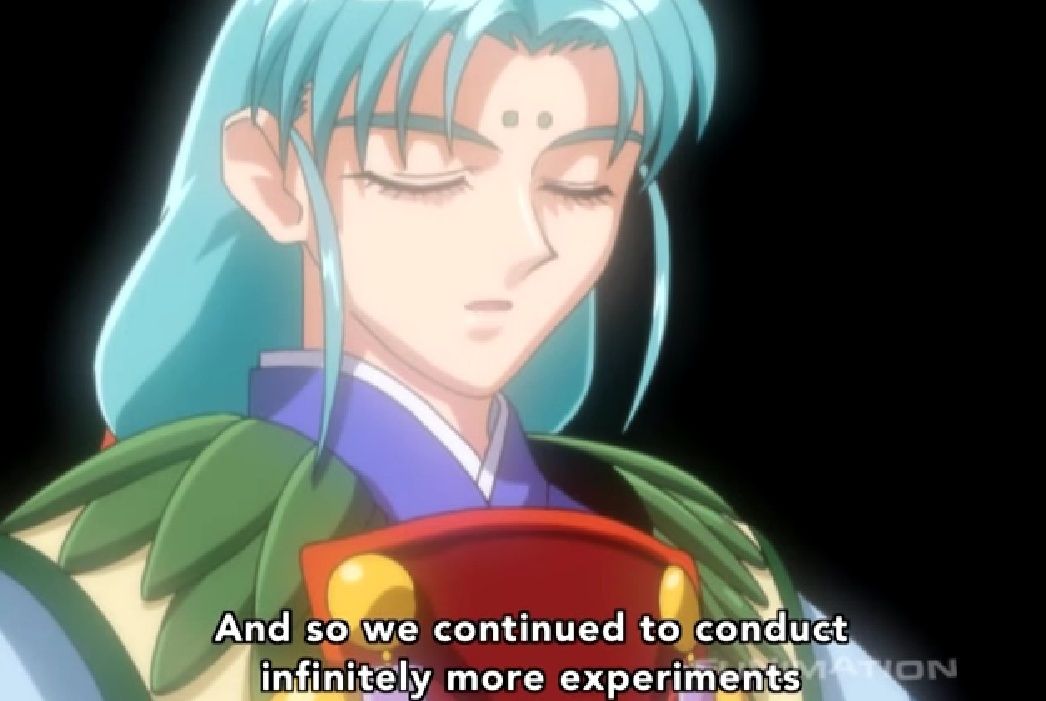 He is a experiment.....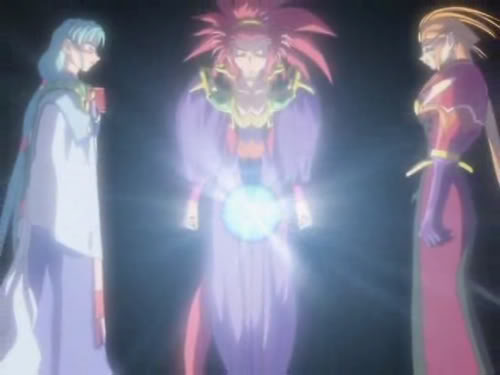 Nigh-Omnipotent beings "Holding" back his power until Masaki had to calm himself down due to "Kami" interference.
He isnt omnipotent as the points above
1. He was created by the choushin
2. Kami tenchi is a future tenchi.
3. Z could have killed him if "Kami" never Interfered.
4. Kami is a future masaki not a current.
5. Kami tenchi HAS not been shown in other tenchi muyo projects.
No one can show proof he is omnipotent just like the character is named after the author yet 3 other characters are named after the author and the fan websites aren't proof even some admit he isnt omnipotent.
Last edited by Beyonder on Fri Sep 16, 2016 2:47 pm; edited 3 times in total
Liked Tenchi Muyo and its sequels, never saw the whole series though. I remember alot of it not making much sense so I didn't pay attention much to the plot. Is it worth looking at it from start to finish?
Judge





Posts

: 272


Join Date

: 2015-03-18


Location

: Everywhere



Sacred Ancestor wrote:Liked Tenchi Muyo and its sequels, never saw the whole series though. I remember alot of it not making much sense so I didn't pay attention much to the plot. Is it worth looking at it from start to finish?
Yes it is.
hmm ok I'll add it to my list of things to dl.
Judge





Posts

: 272


Join Date

: 2015-03-18


Location

: Everywhere




Similar topics
---
Permissions in this forum:
You
cannot
reply to topics in this forum