Even if the beyonder retconning himself and all of existence wasn't true. Then wouldn't he still be quite powerful, hear me out. Most people like to use the scan of beyonder using a majority of his power to erase death. But lets remember that death existed outside the multiverse. That means that it existed throughout the omniverse. Which hotu Thanos couldnt reach. The beyonder however was able to erase death and considering death would be omniversal apparently the beyonder erased death throughout the omniverse which is infinite which would also mean that the beyonder would have to have infinite power to do that. He said that he had a portion of his power left which would be infinite anyway considering the feat he pulled off. Which also makes sense considering he said it was still enough for him to beat everyone. Anyway that's just my little theory tell me what yall think of it. If it's false or if it holds some credibility. Or if you can improve on it.
Roleplay Moderator





Age

: 19


Posts

: 351


Join Date

: 2014-12-11


Location

: Everywhere



Idk why there is double threads.
Roleplay Moderator





Age

: 19


Posts

: 351


Join Date

: 2014-12-11


Location

: Everywhere



I think even this new Beyonder can beat L.T,And I am kind of pissed he didn`t show up in Secret Wars!but honestly at the time I don`t think L.T was thought as #2 yet.To me it looks like the Beyonder is as powerful as he wants to be,so perhaps original Beyonder still exists and is playing games because he`s bored?
Head Judge





Age

: 51


Posts

: 682


Join Date

: 2014-12-15


Location

: philly(go Eagles)



To quote Tom Breevoort......
"If Beyonder was omnipotent he wouldn't have been retcon."
So by his own words.....if Beyonder was never retcon he would have been Omnipotent.


Also LT can only lose to a Omnipotent being(s) only proving Plot Induce Stupidity/Character Induced Stupidity can make Omnipotent being(s) lose because Doom/Molecule Man beating the Beyonders is just no logical writing.....
There isn't anyone in fiction who has better feats imo that I have seen of being omnipotent literally. Even those considered more omniptent like TOAA has no real feats other than his creations feats.
Judge





Posts

: 271


Join Date

: 2015-03-18


Location

: Everywhere



Basically......
1/5th of Infinity is still infinity people use that feat as a low ball because he stated earlier he couldn't bring the concept back "Yet" he was lying because to bring back the actuality of death you must be killed
Evidence 1: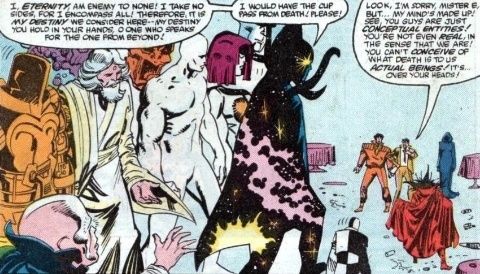 Evidence 2: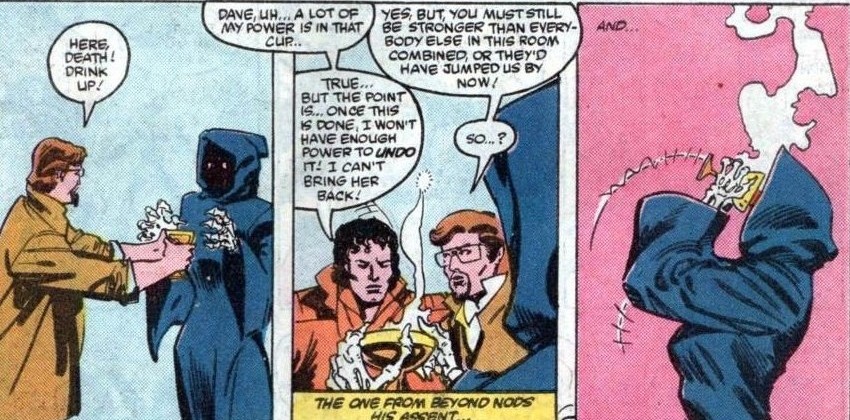 Evidence 3:
Evidence 4: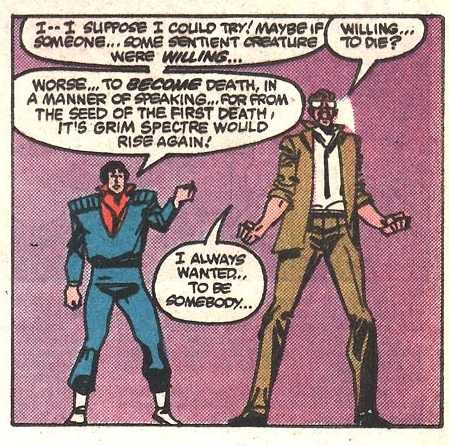 Evidence 5:
Conclusion
Molecule Man couldn't bring back death nor with all his "Nigh-Infinite Power" and Beyonder from his own words stated to become death someone must die! And to confirm the rose was absolutely "Immortal" not even Molecule Man could have killed a single rose and from the context not even the living tribunal could have brought death back no "Power" in the Multiverse can making it shows who is above who and if the living tribunal and molecule man "Nigh-Infinite" power couldn't do the feat then it shows Pre-Retcon Beyonder was Omnipotent because if not then he shouldn't and couldn't have brought death back like he said only displaying the fact people hate him being a God in or out the Marvel Multiverse and the fact The-One-Above-All didn't even exist at this time.

Similar topics
---
Permissions in this forum:
You
cannot
reply to topics in this forum