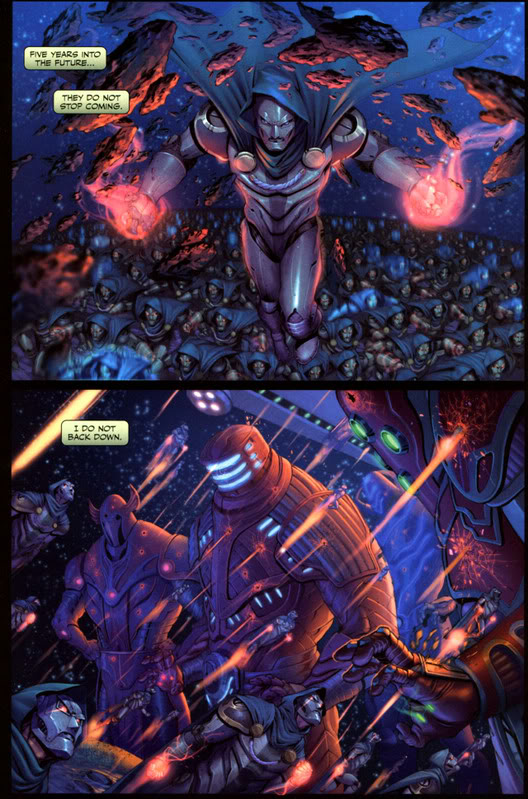 VS
Dr.Doom (Single) gets 10 Years prep and he goes to the Beyonders!
For this Dr.Doom (Copies) with 5 Years of prep they killed the Celestial Race of that reality......so.....
Round 1: 10 Years of prep time
Round 2: 15 years of prep time
Can doom beat them??
Yes,and Mr.B i know at the present time The Beyonders are thought of being more powerful than (the child unit!).The original Beyonder from 1985,seemed to me to be more powerful than all of these new beyonder`s combined.L.T and all the other cosmics where scared to death of him.But I am willing to wait and see where this goes.I have to admit I still like it,even though I was not expecting it to go in the direction Hickman went!
Exellent pics by the way MR B.
Yeah 1985 beyonder was TOAA and messing with the fabric of logic where the beyonders seem to have a alot of powers and etc Hickman direction is good but the whole Thor killing them is a little trolling lol and thanks I read the full issue it was ok.
Yes,i like the idea that Thor and Hype are like brothers.But Killing a Beyonder or two,I just don`t think it would happen.three of them shattered Eternity!
Just like deabtatnig,with you Beyonder.I know i misspeled it but you the Man.
---
Permissions in this forum:
You
cannot
reply to topics in this forum