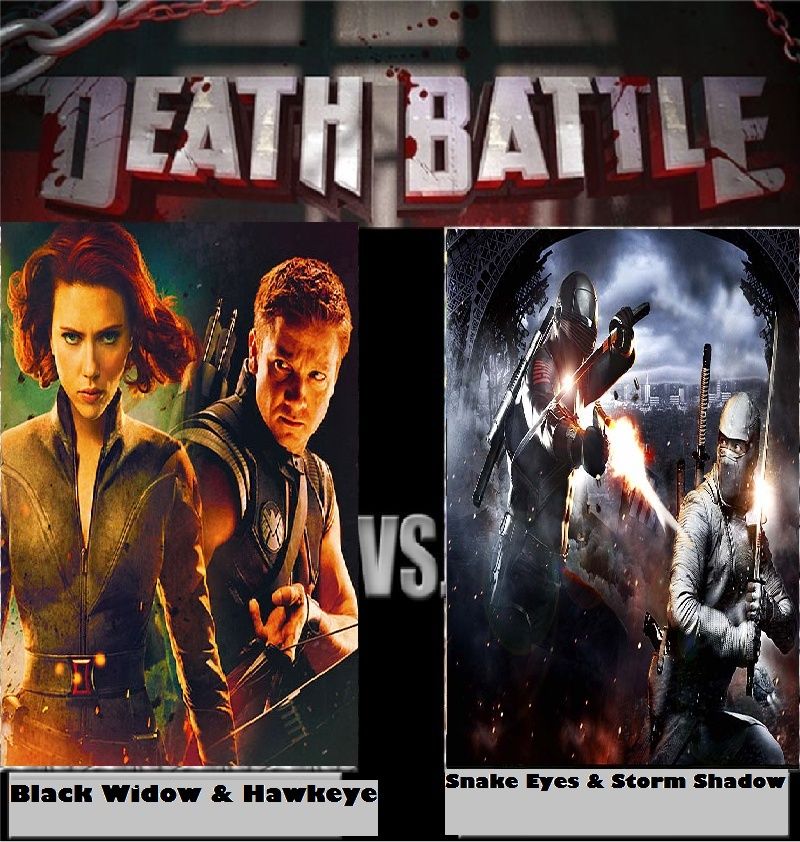 Premise: Following the events of G Joe Retaliation and Avengers Age of Ultron, GI Joe has been contracted by the government to bring these two avengers in for questioning involving the events of ultron and any inside information they may provide. They have also been rumored to be involved in something SHIELD/HYDRA related that brands them a threat that must be neutralized. If they can be captured they are to be brought in for questioning if possible. If not they are to be killed as they pose to high a threat. Snake Eyes and Storm Shadow are sent in finding out intell they are on a SHIELD Hellecairier whose defenses have all been destroyed having only been repaired enough to fly. They are alone for some reason seeking something on the craft. They come across each other seeing each other as an enemy to be taken out.
Who wins?
Snake eyes and Storm Shadow are a unstoppable duo even within the comics and animation feats they are naturally gifted people in weapons but i would like to see Black widows and Hawkeyes capabilities......so lets debate!
Yea its in the movie verse its much closer. Black widow has some great feats with the avengers and captain america, she has a nice array of gadgets and weaponry like the facial disguise, the eletromagnetic disabling mechanisms, the guns, etc. Hawkeye has a show some nice coordination skills with BW and the avenger especially in avengers 2, his marksmanship is top notch, and he was the first one to take on quicksilver so successfully using battle strategies of studying his opponent's movements on the fly leaving himself open to anticipate where he would attack.

But Snake eyes and Stormshadow have trained together as kids in the same fighting style and master. They know each other's strategies as well as breathing. Their fighting skills and ability to adapt are amazing and they know techniques that the avengers don't like stoping their heart, meditation in order to heal quicker and to enhance thier strength beyond peek human etc.
I agree

Snake eyes and Storm Shadow are just to vastly adapted in a fight they are and have been experienced fighters for since they were kids and the stealth training goes to the point they are rarely even noticed the brothers are trained in both Guns and various amounts of weapons they arent going down anytime soon.

Black Widow unlike Hawkeye has Training in different styles BUT she doesn't have the years experience like Snake and Storm they can deflect bullets very easily and can hide in shadows. And Hawkeye isn't vast in multiple different styles he mostly depends on his Bow and Arrow his hand to hand combat is just TO basic he wont even last a second with the 2 black widow would most likely survive. A good hour before her stamina gives out and Snake Eyes and Storm Shadow are still up for a fight they wouldn't kill her due to her own styles but she wont last long.
Yea I love how storm shadow out ran the mechs they were using that were way faster than even cars in the area. It shows their well above peak human in speed and stuff. The next match up I wanna put them against Cap and winter soldier.
Now thats a good debate right there!
MAKE IT! i got to post on that thread lol!
---
Permissions in this forum:
You
cannot
reply to topics in this forum