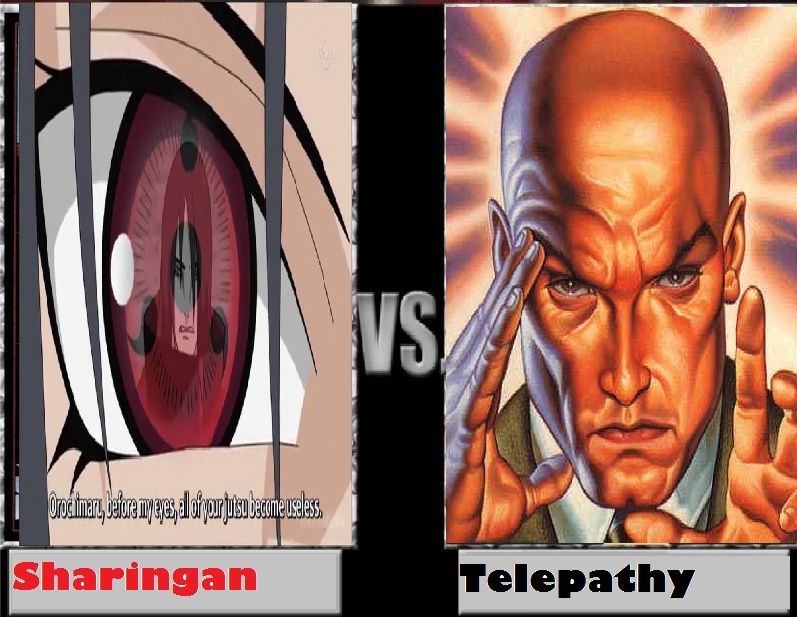 Premise: Considering that the Sharingan becomes Rinnegan in the most proficient users it also can be considered paired with the Sharigan. Which power is more versatile? Which is more powerful? Can any compare to Professor X and Phoenix?
Also do we consider the sharingan's power true telepathy? or merely the manipulation of charkara with in the Naruto universe? Can it be considered just lifeforce and a universal weapon against all?
Judge





Posts

: 271


Join Date

: 2015-03-18


Location

: Everywhere



Stalemate......
Sharingan can do things similar to Telepathy without moving objects and blowing brains out but Sharingan simply attacks everything in your body and the user is completely in control.
Founder





Age

: 21


Posts

: 5595


Join Date

: 2014-09-19


Location

: Beyond Realm



Well that is the thing the sharingan needs to control the charkara flow inside the mind and disturbs the whole body flow which can be seen. Even the strongest mind control method with shisui's version can be seen. Telepathy directly attacks the mind itself and over much greater distances in the more proficient users. It can then be extended to controling psonic power in general much like when the sharigan becomes the rinnegan. The phoenix represents that.

It seems to me since the sharigan is more limited to controlling charkara flow and isn't as ranged the telepathic powers seem to have a big edge. One of the biggest attacks the sharigan has is infinite tsukuyomi something Professor X could do pretty easily even mind wipe the whole planet.
Judge





Posts

: 271


Join Date

: 2015-03-18


Location

: Everywhere



Problem is Infinite Tsukuyomi makes the people caught feel as if it was never casted even when we seen it be used noone was safe no humans or animals even when you are asleep and even shielded in you homes you still get hit but i take Telepathy the most over Sharingan but the rinnegan seems to be the strongest form of God-Like abilities human path where you can read and instant kill the victim and where the outer path judges truth and lie i like both to be honest but in terms of powers Telepathy takes it.
Founder





Age

: 21


Posts

: 5595


Join Date

: 2014-09-19


Location

: Beyond Realm



---
Permissions in this forum:
You
cannot
reply to topics in this forum