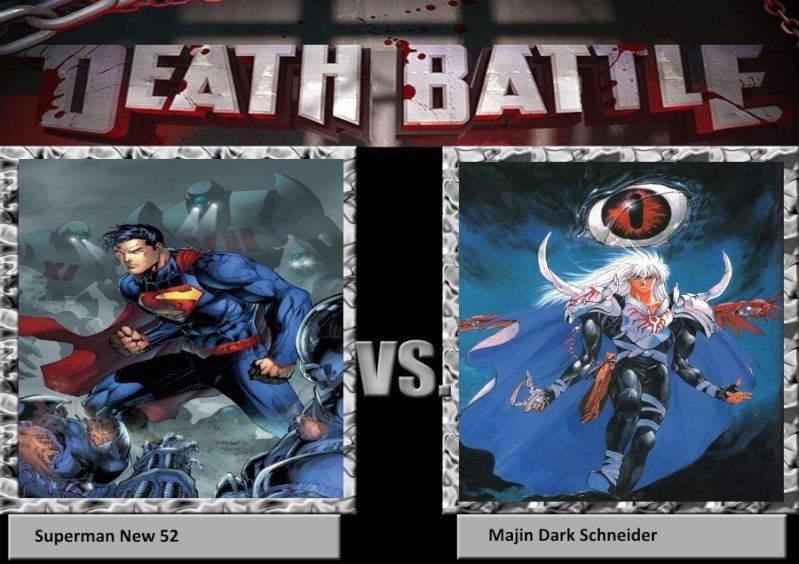 No Preparation

To the Death

All statements MUST be supported by feasible evidence via image of source.
For sources please reference directly from their Comics/Manga 
What is dark Schneider biggest feat?
He has quite a few feats that are quite amazing. I'd have to settle it down with this one, it's a enormous durability feat.
Dark Schneider survived explosions that have broken the dimensional barriers between Hell and Earth, a force which equals the big bang. The Black Abyss, which is located 28,000 light years away from their battle and has the mass of fifty million suns, is completely destroyed during these explosions.
 (Will provide scan of it early in morning tomorrow, i had something that kept me out of PC all day. I'll leave you with Dispel Bound to occupy some thoughts) 
In addition i'd have to say he has a ABSURD defense with Dispel Bound
Haven't gotten to this series yet so can you provide more information?
New Member





Age

: 19


Posts

: 32


Join Date

: 2015-10-09


Location

: NC



Since New 52 has very real feats to par with Dark Schneider I will have to say Schneider wins with little difficulty.
lol DS laughs when he finds out some of things that laid supes out, and supes says....yea...wtf. And walks away.
Judge





Posts

: 271


Join Date

: 2015-03-18


Location

: Everywhere



I need to start reading this series.
Just submiting stuff that should have been here.
Dispel Bound itself... will nullify nearly anything game-changing
Not to mention.. with different layers of Immortality Meaning he has to kill the Astral, Physical and Spiritual Body at the SAME TIME.
If he can't (which he has no way to destroy even 2/3 of those listed) He cannot even WIN the fight.
Not to mention.. Dark Schneider can exchange a INFINITE number of punches AND counters, which was his only way to even fight another man with Dispel Bound.
and for just sheer destructive power... (NOT his max damage) Scan of him creating a dark hole big enough to have the mass of 50 MILLION Suns.
Superman New 52 only feats that are impressive is his Planet lifting feat,his Faster than light speed,his Multi-moon level DC and his new super flare.
Schneider is too powerful and haxed for Superman.

Besides, his powers works like reality warping or magic, even if New 52 doesn't have this specific weakness, he still haven't shown the resistence to keep up against Schneider.

Besides, is not like Sups could kill him anyway,
New Member





Posts

: 32


Join Date

: 2015-11-26



Yeah I have seen some feats about him he stomps Superman new 52 form.

Similar topics
---
Permissions in this forum:
You
cannot
reply to topics in this forum